Panasonic's Lumix G9 is a mirrorless masterpiece
« The Lumix G9 is the new benchmark for Micro Four Thirds »
OUR VERDICT
Excellent image quality, 60fps shooting, polished handling and a wealth of advanced features add up to make the Lumix G9 a brilliant all-round mirrorless camera and Panasonic's best mirrorless camera to date.
FOR
6.5-stop image stabilization
Up to 60fps burst shooting
Large viewfinder
Great grip and handling
Dual UHS-II card slots
Great build quality
Intelligent control layout
80MP high-resolution mode
5-axis in-body stabilization
6K photo and 4K video
AGAINST
ISO range could be broader
Reduced screen size compared to GH5
Battery level not shown as a percentage
Panasonic Lumix DC-G9 Specifications
Price
MSRP
$1699 (body only)
Body type
Body type
SLR-style mirrorless
Body material
Magnesium alloy
Sensor
Max resolution
5184 x 3888
Image ratio w:h
1:1, 4:3, 3:2, 16:9
Effective pixels
20 

megapixels

Sensor photo detectors
22 

megapixels

Sensor size
Four Thirds (17.3 x 13 mm)
Sensor type
CMOS
Color space
sRGB, Adobe RGB
Color filter array
Primary color filter
Image
ISO
Auto, 200-25600 (expands to 100-25600)
Boosted ISO (minimum)
100
White balance presets
5
Custom white balance
Yes 

(4 slots)

Image stabilization
Sensor-shift
CIPA image stabilization rating
6.5 

stop(s)

Uncompressed format
RAW
JPEG quality levels
Fine, standard
File format

JPEG (Exif v2.31)
Raw (Panasonic 12-bit RW2)

Optics & Focus
Autofocus

Contrast Detect (sensor)
Multi-area
Center
Selective single-point
Tracking
Single
Continuous
Touch
Face Detection
Live View

Autofocus assist lamp
Yes
Digital zoom
Yes 

(2x-4x)

Manual focus
Yes
Number of focus points
225
Lens mount
Micro Four Thirds
Focal length multiplier
2

×

Screen / viewfinder
Articulated LCD
Fully articulated
Screen size
3

″

Screen dots
1,040,000
Touch screen
Yes
Screen type
TFT LCD
Live view
Yes
Viewfinder type
Electronic
Viewfinder coverage
100

%

Viewfinder magnification
1.66

×

 (0.83

×

 35mm equiv.)
Viewfinder resolution
3,680,000
Photography features
Minimum shutter speed
60 

sec

Maximum shutter speed
1/8000 

sec

Maximum shutter speed (electronic)
1/32000 

sec

Exposure modes

iAuto
Program
Aperture priority
Shutter priority
Manual

Built-in flash
No
External flash
Yes 

(via hot shoe or flash sync port)

Flash modes
Auto, Auto/Red-eye Reduction, Forced On, Forced On/Red-eye Reduction, Slow Sync., Slow Sync./Red-eye Reduction, Forced Off
Flash X sync speed
1/250 

sec

Drive modes

Single
Continuous I/II
6K Photo
Post Focus
Self-timer
TIme-lapse

Continuous drive
20.0 

fps

Self-timer
Yes
Metering modes

Multi
Center-weighted
Spot

Exposure compensation
±5 (at 1/3 EV steps)
AE Bracketing
±3 (3, 5, 7 frames at 1/3 EV, 2/3 EV, 1 EV steps)
WB Bracketing
Yes
Videography features
Format
MPEG-4, AVCHD, H.264
Modes

3840 x 2160 @ 60p / 150 Mbps, MP4, H.264, Linear PCM
3840 x 2160 @ 30p / 100 Mbps, MP4, H.264, AAC
3840 x 2160 @ 23.98p / 100 Mbps, MP4, H.264, AAC
1920 x 1080 @ 60p / 28 Mbps, MP4, H.264, AAC
1920 x 1080 @ 30p / 20 Mbps, MP4, H.264, AAC
1920 x 1080 @ 60p / 28 Mbps, AVCHD, MTS, H.264, Dolby Digital
1920 x 1080 @ 60i / 24 Mbps, AVCHD, MTS, H.264, Dolby Digital
1920 x 1080 @ 60i / 17 Mbps, AVCHD, MTS, H.264, Dolby Digital
1920 x 1080 @ 23.98p / 24 Mbps, AVCHD, MTS, H.264, Dolby Digital

Microphone
Stereo
Speaker
Mono
Storage
Storage types
Dual SD/SDHC/SDXC slots (UHS-II supported)
Connectivity
USB
USB 3.0 (5 GBit/sec)
USB charging
Yes
HDMI
Yes
Microphone port
Yes
Headphone port
Yes
Wireless
Built-In
Wireless notes
802.11ac + Bluetooth
Remote control
Yes 

(wired or via smartphone)

Physical
Environmentally sealed
Yes
Battery
Battery Pack
Battery description
DMW-BTC13 lithium-ion battery & USB charger
Battery Life (CIPA)
400
Weight (inc. batteries)
658 

g

 (1.45 

lb

 / 23.21 

oz

)
Dimensions
137 x 97 x 92 

mm

 (5.39 x 3.82 x 3.62

″

)
Other features
Orientation sensor
Yes
Timelapse recording
Yes
GPS
None
The Lumix G9 is a different kind of camera for Panasonic, one that strides out in a new direction. As the equally capable GH-series has grown increasingly video-centric with the GH5 — and now the even more video-specific GH5S — the G9 sets its gaze clearly on still photographers, a demographic that Panasonic hasn't done as good a job attracting as Micro Four Thirds rival Olympus. In fact, in many ways, the G9 is Panasonic's answer to the Olympus OM-D E-M1 Mark II, a high-end, stills-first mirrorless camera that targets enthusiast and professional users. (Note: Gear for this review was provided by Portland, Oregon-based Pro Photo Supply.)

But as unique as the G9 is for Panasonic, it is also derivative. It appropriates the best aspects of its competition: The comfort and ergonomics of a Canon EOS 80D, the perfectly placed power switch and AF joystick of a Nikon D500, the high resolution mode of the Olympus E-M1 Mark II, and the powerful 4K video features of Panasonic's own cameras.

It doesn't blow away the competition outright in any one area, but few — if any — cameras have gotten so much right while sacrificing so little in the pursuit of perfection. As if woven together from threads of pure kaizen energy, nothing about this camera feels like an afterthought; all of the features and tech are refined and mature, the result of years of steady learning, observation, and iteration. It may be by evolution rather than revolution, but the G9 now shares a spot atop Panasonic's product lineup and, quite frankly, it is damn impressive.
Body and Design

The Panasonic G9 weighs 658 g, making it a little heavier than the Olympus E-M1 II (574 g), but lighter than the Panasonic GH5 (725 g). Size-wise the G9 and GH5 are nearly identical, while the EM-1 II is ever-so-slightly smaller.
The G9 has the build quality of a pro-level camera. The chassis is die-cast magnesium alloy and according to Panasonic, every joint, dial and button is substantially weather-sealed. The textured rubber-like material wrapping the G9 is is grippier than that of the GH5 and gives the camera a rugged feel in the hand.
In hand
The G9 is comfortable and easy to operate. The grip is deep and one can easily access an impressive number of controls using just a single hand. Plus, the ridge on the front where the shutter button sits juts out nice and far from the grip itself, providing a little nook for one's middle finger. The camera is also nicely-weighted.
Compared to GH5
Compared the the GH5, this reviewer found the deeper, narrower grip of the G9 to be more comfortable.
The Panasonic G9 (left) is the first mirrorless camera – excluding the medium format Fujifilm GFX 50S – to offer a top plate LCD since the Samsung NX1. Here it is next to the Panasonic GH5. Also note the 'Nikon-style' on/off switch.
Speaking of the GH5, there are a few notable physical differences between the two cameras, most of which are visible from the top plate. The most obvious is the inclusion of a top plate LCD on the G9. The Drive Mode dial is now tucked below the Mode dial on the left side, and the on/off switch has moved to a more convenient location in front of the shutter button.
EVF

Big and beautiful is how I'd describe the G9's 3.68M-dot electronic viewfinder. It offers an equivalent magnification of 0.83x, making it the largest EVF on a Micro Four Thirds body to date.
The eye point distance is 21mm – I wear glasses and occasionally had trouble seeing the outermost corners of the EVF display. The default display setting for the G9 uses the entire EVF as the live view area and places icons within it, but fortunately, there's an option called 'LVF/Monitor Disp. Set.' that allows you to shrink the live view display and show icons outside the live view area. Doing so helped a lot.
Ports and cards
The Panasonic G9 offers a headphone and microphone jack, full-size HDMI port and a USB 3.0 jack that can be used to charge and power the camera.

The G9 also has a remote input terminal on the opposite side of its body – as well as flash sync port on front.

Like the GH5, the G9 offers dual card slots. Both slots have support for UHS-II cards, including support for the latest high-speed V-rated cards.

Given the camera's impressive burst speeds and buffer, we're pleased to seesupport for the latest/fastest media.
In an age where you can throw a rock and hit a camera that's good enough, the little things begin to matter even more. Panasonic wasn't afraid to sweat the small stuff, and the G9 is all the better for it. This is a camera that puts usability above all else. It may not be as pretty as an Olympus OM-D, but Panasonic has dialed up its typical utilitarian design to the next level.
It starts with a top LCD information panel, the likes of which have been found on high-end SLRs since even before the digital days, yet are very uncommon on mirrorless cameras. You can check and adjust exposure settings at a glance, and the red backlight makes it easy to see in dark situations. This is particularly useful when you don't want to use the rear LCD monitor if the light from it could disturb your environment (although, the G9 does offer a red-light-only night mode for the monitor, as well).
To the left of the top LCD is the G9's other signature feature: a huge electronic viewfinder. With a 3.68-million-dot resolution and 0.83x full-frame equivalent magnification, it's one of the largest and sharpest EVFs of any mirrorless camera. It offers a choice of refresh rates of 60 or 120 frames per second (fps), the latter of which makes it feel about as close to an optical viewfinder as an EVF can get. It's a big step above the viewfinder on the Olympus E-M1 Mark II, which makes due with about 1.3 million fewer pixels.
Few — if any — cameras have gotten so much right while sacrificing so little in the pursuit of perfection.
However, in part because of how big it is, you need to press your eye right against the eyecup in order to see the full viewfinder without any edge distortion. This isn't a huge drawback, but it is a minor annoyance. (Panasonic does offer an extended comfort eyecup for $20, which we did not try during our testing period.)
The rear LCD monitor is both smaller and lower resolution than that of the GH5, but it offers the same amount of articulation for multi-angle shooting, including — yes — selfies. The screen also offers optional touch pad autofocus, allowing you to move the AF point by sliding your thumb on the LCD while framing a shot through the EVF.
The G9 also boasts Panasonic's best control layout yet, which is quite a bit more traditional than that employed by Olympus on the E-M1 Mark II. Time-to-shoot is as low as can possibly be, with the most critical controls all accessible by one hand. Taking a page out of Nikon's book, the power switch encircles the shutter button and also toggles the backlight on the top LCD. Like the GH5, dual command dials are found on the top of the camera, and autofocus controls, including an AF point selector joystick, lie just to the left of the thumb rest. The top plate also holds dedicated buttons for white balance, ISO, and exposure compensation.
In additional to several programmable function buttons, there is a function lever on the front of the camera. This makes it easy to quickly lock in a secondary mode or other feature that you want to leave on semi-permanently, like silent shooting, touch pad AF, or mode dial locks.
The shutter button itself acts like a hair trigger; it takes a very light touch to snap a picture. The button continues to travel a good distance after the shutter is tripped, which takes some getting used to. Don't be surprised to find yourself firing off exposures by accident when you first handle this camera.
The grip is the largest of any Micro Four Thirds camera yet, but it is also the most comfortable. Combined with the big viewfinder, the G9 is altogether not much smaller than an enthusiast-level DSLR, but it feels great in the hand. It is also heavier than the E-M1 Mark II by about 4 ounces (but, still a bit lighter than the GH5).
Twin UHS-II SD card slots are found on the right, while full-size HDMI and USB 3.1 ports are on the left. The camera offers clean 4K output over HDMI, and the USB port serves for both data transfer and charging (a standalone battery charger is also included in the box).
Battery life
The Panasonic G9 uses the same DMW-BLF19 battery as modern GH-series cameras. It is CIPA rated 400 shots per charge, 10 less than the GH5.
As is the case with all cameras, this is just a baseline used for comparison and you're likely to get a lot more in practice. In particular, expect to be able to get far more shots than this when shooting long bursts using the electronic shutter.
Controls
The G9 has a ton of control points and is highly customizable.
Geared for advanced enthusiasts and professional photographers, the Panasonic G9 offers a dizzying number of control points, many of which can be customized.
There are three control dials on the G9 – two on the top plate and one on back. Oddly, all three have different tactile feel. I personally would have preferred if the two top plate controls were made of identical materials and had an identical feel when turned, but then again, perhaps I'm a dial snob.
AF joystick
The AF joystick is well-placed and offers a textured finish for easy gripping. Pressing it inward returns one's point to the default center location. But sadly it is four-way only, so there is no diagonal movement (which proved frustrating in real world shooting). Point movement is also sluggish. Worse still, the joystick will not acknowledge a change in direction until it is first released back to center.
As always, having an AF joystick is always better than not having one, and we're hopeful these issues will addressed and improved in a future firmware update.
Touchscreen experience
The 1.04M-dot 3″ articulating touchscreen on the Panasonic G9 is excellent when used for anything other than Touchpad AF (more on that in a moment). It can be used when shooting, in playback and to navigate the menus. It is responsive and features common touch gestures like pinch-to-zoom and swiping in playback to move on to the next image.
When one's eye is to the finder, the touchscreen can be used as a touchpad to move the AF area. Unfortunately for right eye shooters, there's a good chance your nose will accidentally change the AF point when this option is switched on. I frankly have a small nose, and still constantly found myself moving the AF point unintentionally, usually to the upper left corner of the frame. Left eye shooters should not have this problem.
When using touchpad AF, you can toggle between 'Exact' and 'Offset' AF point placement. When using the later, regardless of where you touch the screen, the initial AF point will be in the center. Unfortunately, Panasonic does not have an option to limit what portion of the screen initiates the touchpad, as competitors like Sony and Canon allow. Being able to turn off the left portion of the screen would fix my 'nose AF' issue.
Customization
The G9 is a highly customizable beast. It has five physical buttons that can be set according to your desire, three on the back and two on the front near the lens mount. There are also five on-screen virtual custom buttons. In total, there are 17 pages of options to choose from when customizing. And all of these buttons can be set to have different functions when in playback mode vs shooting mode (there's no distinction when customizing between stills and video shooting). Users can also, separately assign the behavior of the AEL/AFL button.
But that's not all, there's also a customizable 'My Menu' tab where you can save and organize settings you'd want to call up quickly. Users can also save camera settings to the 'C1,' 'C2,' and 'C3' spots on the mode dial. And if that wasn't enough, you can also customize the options in the Q.Menu.
Function lever
Finally, Panasonic has added a new 'Function Lever' to the front of the body. It's function can be set to any one of the following:
AF Mode
Photo Quality
Photo Style
Long Shutter Noise Reduction
Stabilizer
6K/4K Photo
Self Timer
Silent Mode
Shutter Type

Bracket
Touch screen
Touch Pad AF
Auto Review
Peaking
Night Mode
Control dial lock
Off (no function)
Once assigned to a function, users then pick what happens to said function when the lever is flipped. For instance, if you have the lever set to control 'AF Mode,' you then choose which of the AF Modes the camera calls up when it is flipped to the '2' spot – which it will do regardless of what AF mode you are in when the lever is switched.
This may not sound like a big deal, but it is. The Function Lever finally makes it possibly to turn on settings like Face Detect with a single action – something you couldn't previously do on a Panasonic without a trip to the menus.
Connectivity
The G9 offers both Wi-Fi and Bluetooth. The later is used to maintain a constant low-power connection between camera and one's device. This way, when you want to transfer images, or control the G9 remotely from the Panasonic Image app (both of which are done via Wi-Fi connection), you don't have to go through the whole pairing process.
Auto ISO
The Auto ISO implementation on the G9 is fairly comprehensive by our standards: You can select a minimum and maximum ISO and specify the minimum shutter speed threshold for the camera to hit before it raises the ISO. There's an 'Auto' minimum option that tends to opt for one over the focal length. And in manual exposure mode, Auto ISO can be used with exposure compensation. This is true whether you are shooting video or stills.
STABILIZATION AND HIGH-RES MODE
The G9 inherits the 20-megapixel Micro Four Thirds sensor from the GH5, but the five-axis stabilization system has been tuned for better performance. When combined with a stabilized Panasonic lens, it offers up to 6.5 stops of shake reduction, allowing for much slower shutter speeds than what would normally be required for a sharp shot. Even without a stabilized lens, the in-body stabilization works very well in both photo and video modes.
But that sensor-shift technology is also used for something else: A multi-shot high-resolution mode, a first for a Panasonic camera. If there was one objective advantage Olympus had maintained over Panasonic until now, this was it. The high-resolution mode takes eight exposures, shifting the sensor by half a pixel's width each time, then combines the exposures into one, 80-megapixel RAW or JPEG file. Results from this mode demonstrate incredibly rich details, but we also noticed less noise and more accurate color in some situations.
High-res mode does have some limitations. It requires a tripod, and any motion in the scene will be blurred. Also, maximum ISO is restricted to 1,600 (compared to 25,600 in single-shot mode). Although, this likely won't be a problem given the mode's intended use for tripod-mounted shots, where a slower speed is a more acceptable option.
Standard, non-multi-shot photos are what we've come to expect from other cameras that use this sensor. Detail, color, and dynamic range are all good, but the smaller Four Thirds sensor still can't hold up against larger formats, particularly when it comes to high ISO shooting. That said, we did capture pictures up to ISO 3,200 with noise levels that were certainly within acceptable range.
Autofocus
225-area AF system
Customizable AF settings
0.04 sec AF speed
The Lumix G9 gets the same 225-area AF coverage as the GH5, which covers the majority of the frame, though not quite to the edges. Focusing is sensitive down to light levels as low as -4EV, while the G9 also uses Panasonic's DFD (Depth from Defocus) autofocus technology.
 While mirrorless rivals have embraced a hybrid AF system that takes advantage of both phase-detect and contrast-detect AF methods, Panasonic has opted to plough on with solely contrast-detect autofocus. While you'd expect this approach to result in slower AF acquisition than from rival cameras, it certainly doesn't seem to be compromised in use. Achieving a 0.04 sec acquisition speed (a very slight improvement over the GH5's 0.05 sec) in our testing, it certainly didn't leave us wanting – and even in poor light it managed to lock on without any issues.
There are plenty of focusing modes to choose from too. If you want to keep things simple, opt for the 225-Area mode in single AF and the camera will do much of the hard work for you, choosing which part of the frame it thinks you want to focus on; if it doesn't get it quite right you can always use the joystick to toggle to your desired point of interest. There's also a Face/Eye Detection mode if you're going to be shooting a lot of portraits.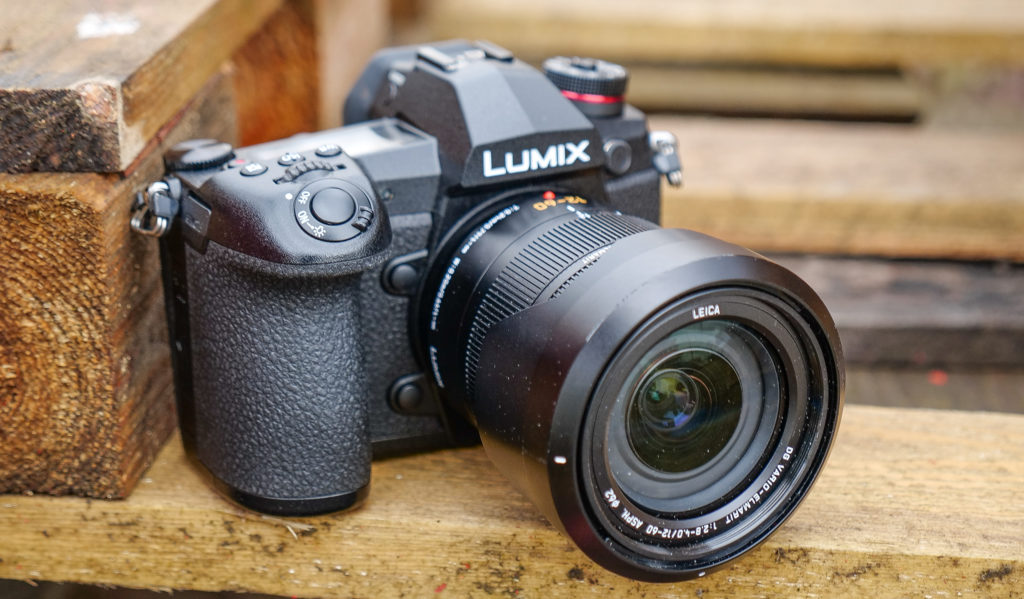 There are also Pinpoint (single AF only) and Tracking modes, but we found that we predominantly used either the Custom Multi or 1-Area modes for a lot of the subjects we were shooting. The flexibility to change the amount of AF areas covered in Custom Multi is really useful (though we'd like it to store the last-used setting when you switch the camera off and on again), while the precision offered by the 1-Area AF mode was a must for some subjects.
As on the Lumix GH5, users can set up four different profiles with adjustable sensitivity, AF area switching sensitivity and moving object prediction, depending on the type of subject they're shooting.
Image quality
ISO100-25,600
No optical low pass filter
Good dynamic range
Image quality from the Lumix G9 is very good indeed, and it's certainly the best performance we've seen from a Micro Four Thirds-based camera.
Unencumbered by an optical low pass filter, the 20.3MP chip delivers really fine detail at lower sensitivities; you'd certainly struggle to tell the difference between results from the G9 and a comparable APS-C rival.
Panasonic has also worked hard to improve color rendition, and the G9 produces much more natural-looking and faithful colors in JPEG files than we've seen from other Lumix cameras in the past.
Results throughout the ISO range also look very good, with only a slight hint of luminance (grain-like) noise in the mid-range sensitivities when looking at raw files – you'll have to be looking really closely to notice it.
CONTINUOUS SHOOTING PERFORMANCE
Using the mechanical shutter, the G9 can shoot at up to 12 fps, or nine with continuous autofocus. With the electronic shutter, those numbers jump to 60 and 20, respectively, and — as we saw first on the Olympus E-M1 Mark II — there is also a pre-shot mode that continuously buffers about half a second of frames before the shutter button is pressed. This helps ensure that even when you miss the moment, you won't actually miss the moment.
However, there are a couple of limitations to how the G9 handles continuous shooting, both with the mechanical and electronic shutters.
The G9 also has a pre-shot mode that continuously buffers about half a second of frames before the shutter button is pressed.
The aperture setting of the lens can limit the burst rate. Wide-open, we had no trouble achieving the maximum rate, but we saw performance dip from 12 to about 8 fps when we stopped the lens down halfway. We reached out to Panasonic, which confirmed this is expected behavior for its MFT cameras, stating the need for the aperture to open and close between frames to perform focus and exposure calculations. However, even with focus and exposure set to manual, the slowdown still occurs. While this isn't necessarily limited to Panasonic, we haven't seen this effect expressed so strongly in other brands.
Interestingly, the electronic shutter does not suffer the same aperture limitations as the mechanical shutter. Even with continuous AF engaged, the aperture remains stopped down throughout the burst sequence — just like it would in video mode — instead of opening and closing between each frame.
But, as with other cameras that offer the feature, the electronic shutter risks incurring rolling shutter distortion, which will be worse with faster moving subjects or when panning quickly — exactly the types of situations when you might want the fastest burst rates. All of this means that, despite the seemingly impressive numbers, we can't really recommend the G9 as a true sports camera, but it certainly has the speed to handle the occasional action sequence.
As for autofocus, the G9 uses the same 225-point Depth from Defocus (DFD) system as the GH5. DFD is Panasonic's alternative to on-chip phase-detection, which is now used by just about every other mirrorless camera manufacturer. It works well and is very fast in single-shot mode, and is actually still decent in continuous and tracking modes — if not quite up to par with the dedicated phase-detect AF of a DSLR.
6K PHOTO AND 4K VIDEO
Also carried over from the GH5 are the 6K and 4K Photo modes, letting you capture virtually unlimited bursts of either 18 or 8MP images. 6K photos can be taken at up to 30 fps, while 4K photos can be shot at 60 fps.
And yes, that means the G9 can also shoot 4K video at 60 fps, just like the GH5. That's where the high-end video similarities end, however. The G9 does not get the high-bitrate, 4:2:2, 10-bit video of the GH5, nor does it have the option to install the V-Log L profile for increased dynamic range.
Still, the G9 has both microphone and headphone jacks, Cinelike-D and Cinelike-V color profiles, and unlimited record time (the camera will shut down if it overheats, however). And thanks to the five-axis stabilization, it's possible to get smooth handheld shots without much trouble. This may be no big deal for Panasonic, but for any other manufacturer, such video specifications would be commendable. So while pro videographers still have reason to go with the GH5, the majority of hybrid photographers will likely be very happy with the G9.
WARRANTY
Panasonic offers a one-year warranty on all Lumix cameras.
OUR TAKE
It may be derivative, but the G9 is nonetheless a masterpiece. If good artists borrow and great artists steal, then Panasonic now finds itself on the camera industry's most wanted list. This is one of the most impressive cameras we have ever tested, even more so coming from a company that's taken so long to build it. No, it's not perfect — the odd burst rate limitations left us scratching our heads — but it is still the most well-rounded and complete mirrorless camera that Panasonic has ever made.
Going into this review, we really weren't sure that Panasonic would have anything to offer that Olympus hadn't already shown us, but we were wrong. The Lumix G9 might just be the best Micro Four Thirds camera currently available — save the GH5/GH5S for pro video users — thanks to a fantastic control layout, great feature set, and all around solid performance. It imitates more than it innovates, but it turns out that if you borrow the right ingredients from the right sources, you still end up with a recipe for success.
We still have to give credit to Olympus and the E-M1 Mark II for doing most of what the G9 does, and doing it a year earlier in a smaller, lighter package. But the G9 has better ergonomics, a more usable control layout, a much better viewfinder, and a more robust video mode. At $1,700, it is $300 cheaper than Panasonic's own GH5 (and the original price of the E-M1 Mark II, although that camera is currently also selling at $1,700 thanks to a $300 instant rebate at the time of writing).
The G9 is not a small camera, so it doesn't come with the same space and weight savings often associated with the MFT system. For that reason, it makes it a bit easier to look toward something like the Nikon D500, Fujifilm X-T2, or Sony A6500 — all of which offer larger APS-C sensors. None of those cameras can quite match the G9 on features, but if you're a stickler for image quality, they will give you the edge (the D500, in particular, would also be a better choice for action/sports photography).
How long will it last?
This camera is built incredibly well and offers a wealth of functions that you'll likely grow into for some time. It is weather sealed and certainly made to last, but with the E-M1 Mark II already over a year old, all eyes are on Olympus to see if they can continue this game of one-upmanship. Still, the G9 probably has at least another year on top.
Should you buy it?
Yes. The Lumix G9 is a fantastic camera, and a significant accomplishment for Panasonic.
View Panasonic Lumix DC-G9 On Amazon